The most necessary thing for the baby diapers are. They greatly facilitate the life of new parents.
But to give a pack of newborn diapers - a bit corny. Garnish with a stack of festive bow - is not a suitable option.
Check out these diapers can be in the form of a cake.
The gift will be original, beautiful and very useful.
You will need
- Diapers 40 pcs
- Cardboard / thick paper for the base
- Clerical gum
- clothespins
- applique
- Bows and ribbons
- bottle
- a toy
- socks
- Double-sided tape
- wrapping paper
- scissors
instructions
1
The work begins with the basics of cake. From cardboard cut out a circle and obkleevaetsya beautiful white paper. You can use double-sided tape. To obtain a finer base and openwork carved circle larger diameter and it is cut out pattern, like a snowflake. The big circle is attached under a small, as shown in the figure.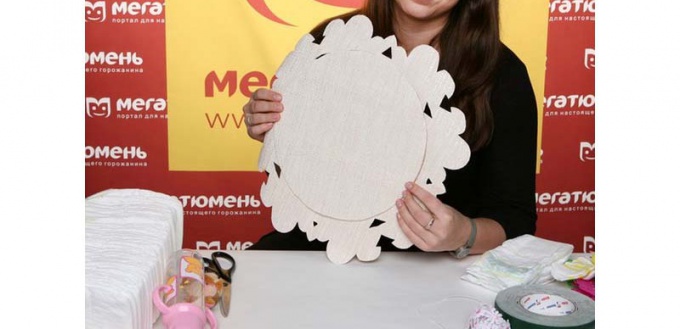 2
All diapers are rolled into a tube and fixed pegs. Pins are only necessary at the time to be able to assemble the cake tiers.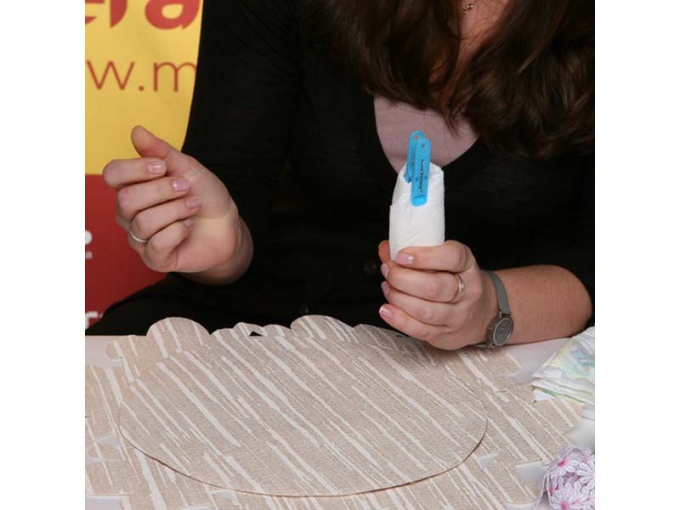 3
At the heart of the center is put feeding bottle and around the exposed diapers. They are fixed by means of elastic bands. After that you can remove the clothespins.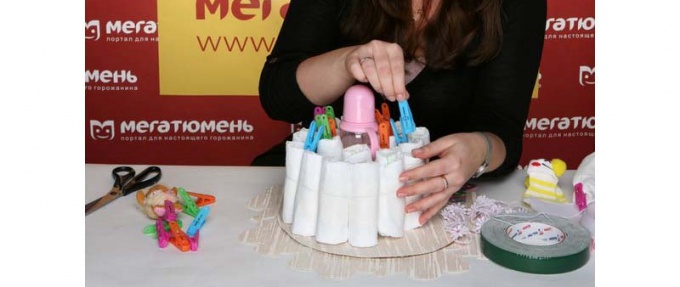 4
In the same way is another level or two of diapers.
5
When tiers are ready, proceed to the decorationcake. Each tier is necessary to tie a ribbon. It will cover the rubber band so that it could not be seen. For the cake added application, toy and socks as a decoration. Adding ribbons or flowers made of fabric.
6
Cake should be packed in transparent paper and tie it a festive bow.